Their story and mine
Their story and mine
Hi fellow fashionistas, and welcome back to my blog. I've recently been looking back over my website and it appears there's one subjects I have spent a lot of time talking about, and it's a subject not only close to my heart, but to the heart of a lot of women worldwide.....shoes. I can't say I found it surprising that I have talked about shoes so often, as the inspiration to write this blog post was when I saw a friend wearing the most beautiful converses known to mankind and I knew I absolutely had to have them. After discovering they are no longer made, and were part of a limited edition a couple of years ago I searched one of the best second hand websites I know;http://www.for-sale.ie/. Lo and behold I managed to find them and my feet are incredibly happy.
The Converse Story.
Converse was established in 1908 by Marquis Mills Converse in Massachusetts, U.S. Originally set up as a rubber shoe company and specialising in winter rubber soled shoes it didn't take too long for Converse to branch out and make shoes for sports. In 1915 Converse began making athletic shoes for Tennis, and in 1917 the first Converse All-Star basketball shoe was made, originally only produced in a natural brown with a black trim.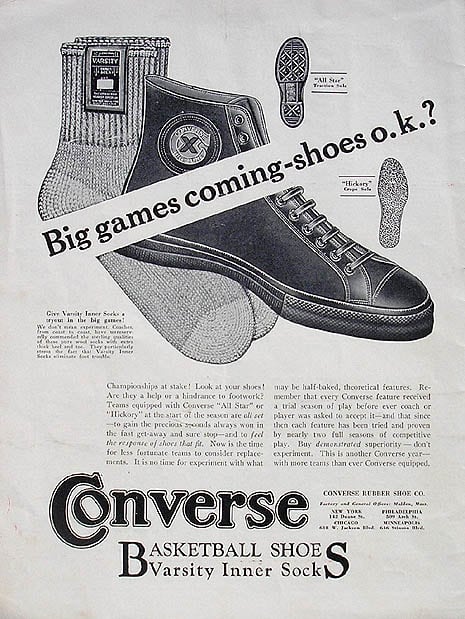 Charles Taylor, known as Chuck to his friends, was a basketball player for the Akron Firestones. He liked Converses but found that they hurt his feet so came to the Converse family to see how he could help to improve the show, and he was given a job working for the company. He became so much a part of the family that in 1932 the name Chuck Taylor was added to the patch sewn onto all Converse All Star shoes, and they would later became known as Chucks.
In the 1936 Olympics basketball was added as a medal sport, and the American team played in the patriotic white high tops, which were designed earlier in the decade, which had a red and blue trim. This style of converse is still one of the most popular designs today, and has changed remarkably little from its conception over 80 years ago.
550 million pairs of Converses were made in 1997 worldwide, and in 2015 Converse had a revenue of $2.0 billion US dollars, and more than 90 retails store across the U.S.
In 2003, Converse became a subsidiary of Nike. Currently 60% of all Americans either own or have at one point in their lives, owned a pair of Converses.
My Converse Story.
My introduction to Converse.
I can still remember the first time I was bought a pair of converses. I was 15 and my 17 year old sister was on a school trip to New York. Whist on this trip she had remembered that I had always wanted a pair of Converses and visited, a shop I will always remember the name of, Yellow Rat Bastard. Unfortunately I would like to remind you that I was 15, and that it was 2005, and thus I had a little bit of an emo tendency and she brought me back these Knee Hi Converse in black with a pink interior.
I'm pretty sure I don't have to tell you it was love at first sight. I mean, look at them and imagine you're a little bit of an awkward 15 year old emo kid. Luckily they aren't actually knee high, they reach half way up your calf, so I have no idea why they are called that!
Pretty in Pink.
Unfortunately as much as i would like to tell you that my next pair was much better that the first, but that would be a little bit of a lie. I was 16, and in the throws of being a teenager in love. I asked my grandparents for a pair of Pink Hi top converses and thats what I got.
To be honest after owning them for a month or so I couldn't work out for the life of me how to style them (it turns out the correct advice is just not too) and they retired to the back of my wardrobe.
Charity shop find.
My third pair of converses were a massive bargain find. Whilst perusing my favourite charity shops I had a quick look at the shoe section, and fell in love. Luckily it was third times a charm, as these are still one of my favourite pairs of Converses, and even though I have bought 3 or 4 pairs more I still wear these the most and get compliments on these the most.
I hope you've enjoyed my blogpost on Converses, and if you need any more shoe-spiration then I recommend this blog post from earlier in the year where we looked at finding usedGucci shoes online.